Safeguarding & Child Protection Overview
A Guide to Good Practice (consistent with procedures followed by Sandwell Children's Trust)
Child abuse can take place in families irrespective of class, culture, race, and religion or income group. Abusers may be strangers but they are more likely to be trusted people close to the child, including carers, other professionals, relatives or friends as well as parents.
It is because of this that all staff at Lyng Primary need to have a clear understanding of what to do if they think a child might be abused or neglected and what happens if a parent is suspected of abusing a child.
Before staff report any suspected abuse, parents will normally be contacted beforehand to share our intention to report the
concerns. However, this contact with parents is not always appropriate. For example, if the child may be placed at an increased risk of significant harm, then the call will not take place. Staff in school will always follow the direction and advice of Sandwell Children's Trust when making a decision to contact parents.
If we think that a child in our care might have been neglected or abused, we have a duty to report it to The Multi Agency Safeguarding Hub (MASH). Once reported, agencies based at the MASH will securely collate information from all available sources to make an informed decision concerning any required intervention.
Early help, also known as early intervention, is support given to a family when a problem first emerges. It can be provided at any stage in a child or young person's life.
At Lyng Primary school, safeguarding and supporting families is at the core of our practise in supporting our children, families and community.
Sometimes families need a bit of extra support. You might be worried about your child's behaviour or development or you and your family might experience some changes or difficulties that you can't manage by yourself. Whatever you are worried about, Early Help can support you and your family so that small problems do not become big problems.
The Benefits of Early Help
Early Help gives children and families the support they need, at the right time. We listen to your needs and bring together professionals who work with your whole family. This helps make things better for everyone.
The professionals who know you will assess the needs of your family using an Early Help Assessment. The correct support can then be put in place as quickly as possible.
It is a voluntary process. You choose whether to be involved and can withdraw from the process at any time. Sometimes, children and young people can make their own decisions about whether they need an Early Help Assessment, and who they want to support them.
What support can be offered through Early Help?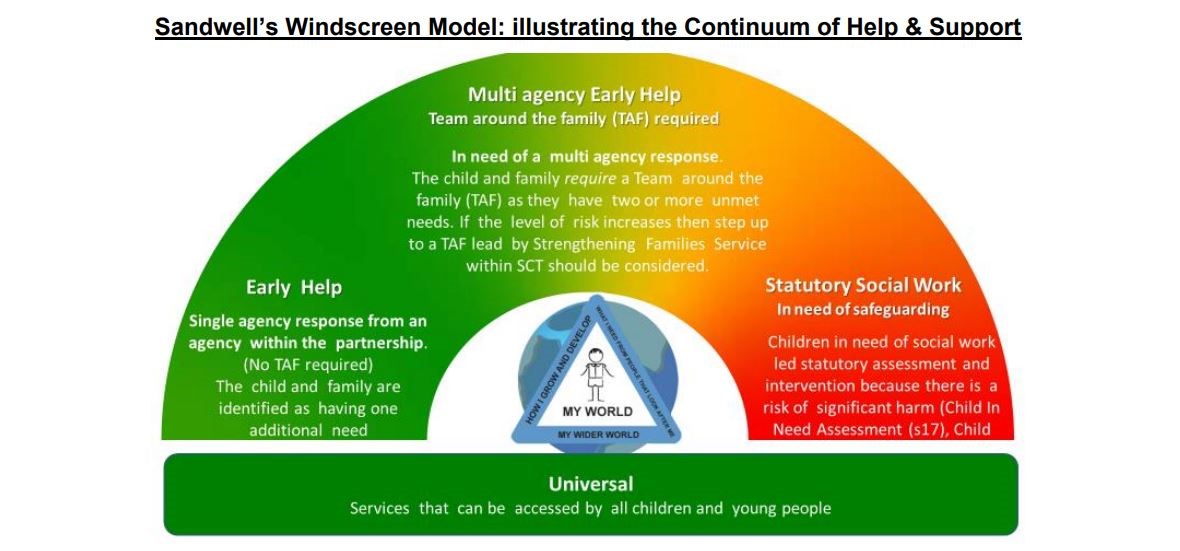 Liaison and help in accessing and navigating other services such as health services, Housing, Inclusion Support, family support services or welfare rights
Parenting programmes, for instance support on managing challenging behaviour
Activity groups for parents of younger children, young carers or other groups
Individual mentoring for young people or parents to support school attendance, mentoring for wellbeing support
Specialist help or therapy to develop speech and language, emotional or social skills; or to assist if physical or mental health needs within the family impact children
Relationship support, for example to help with parental conflict
Support to improve housing or living conditions
Multi agency Early Help, requires a Team Around the Family (TAF) meeting. A lead professional who would coordinate these services will lead these meetings. An action plan is then created which is also lead by parent/carers and professionals for better outcomes for children and family.
We truly believe that the first point of struggles, worries or a change in circumstance, we can prevent escalation and the need for much greater support in the future, averting children from suffering Adverse Childhood Experiences (ACE's)

Lead Professional Role
At Lyng Primary School, Mrs Wellings is a trained Lead Professional with good links to an array of external services, also including Lyng Primary's own internal experienced staff. However, there may be times that the Lead Professional role may be led by an external provider, depending on the level of support.
Key personnel:
Mrs S Wellings - DSL/SMHL/Attendance Lead
Miss L Beresford - DDSL/SENCO/SMHL/LAC Teacher
Mrs F Langford - DDSL/Early Years Lead

Other significant members of our team:
Mr A Fowler- Head Teacher
Mr P Staniland - Deputy Headteacher
Mrs L Howard - Safeguarding Governor / Chair of Governors
Mr T Boughey - Learning Mentor
Mrs R Parveen - (HLTA)

SAFEGUARDING MOBILE No. - 07497 135616
SCHOOL CONTACT NUMBER: 0121 553 1480
SAFEGUARDING EMAIL ADDRESS: admin.lyng@lyng.sandwell.sch.uk
Safeguarding & Child Protection Policies